Option-1:
D.R.I.V.E. Change For Working People
Teamsters unite to make our voice heard on a local and national level. From union contracts to lobbying on Capitol Hill, we keep the working-class people's needs at the forefront of everything we do. D.R.I.V.E. or Democrat Republican Independent Voter Education is the political arm of the Teamsters' Government Affairs Department. Using the resources available with D.R.I.V.E., we're able to create real change on a broad scale.
D.R.I.V.E. is non-partisan and independent from any political party. We keep working people in mind, and rally together for the greater good of our members.
To learn more about DRIVE and how you can contribute: DRIVE@teamster.org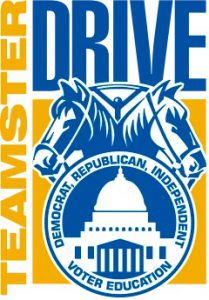 Option-1:
Contributing to D.R.I.V.E. means you're contributing to causes that affect and benefit you and many others. Whether we're working to improve job safety, fighting for affordable child care or putting an end to corporate health providers' greed, our political action makes a difference. Through our work with D.R.I.V.E. and your support, we can continue the fight, standing up to big business interests and helping education members and fund vital teamsters activities such as:
Keeping members and their families informed on the key issues that affect our future, including voter guides that show the records of our Senators and Representatives in Congress.
Building support of issues for the working people through rallies, news conferences, advertisements, and phone banks.
Supporting political candidates who will stand up for working families through voter registration and financial contributions